Touch Screen Solutions / Displays for Tradeshows
Touchscreens and digital signage can provide a unique and memorable experience to potential clients and customers who engage with businesses at tradeshows.
While a paper printed brochure is still a great way for these new contacts to remember your business after the tradeshow is over, creating a distinctive and interactive set of experiences that stands out can cement your brand in their minds.
There are many options available to create these interactive tradeshow experiences. MyTouch Creative can work with you to build the perfect digital signage and interactive experience to best represent your business at tradeshows.
A touch screen kiosk is a great way to 'greet' your tradeshow visitors. By having an interactive kiosk set up at or near the entrance of your booth, you can give your visitors an overview of what your brand is about. These interactive kiosks can also be used to guide them through the various areas of your booth. The options are only limited by your imagination as anything you can load onto a tablet can be loaded onto a kiosk. Play videos, display your catalog and drill down to product details, etc.
There are a couple of types of kiosk you can use in your display: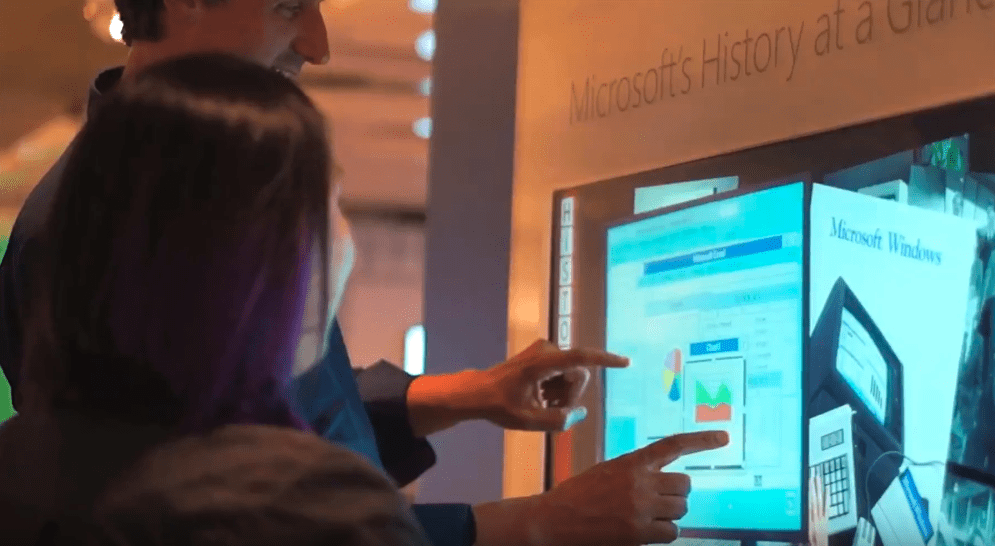 'Standing' kiosks
These are very effective to have outside your booth and can be used to attract the attention of passersby. Use these displays to draw in visitors by using eye-catching graphics and enticing concepts.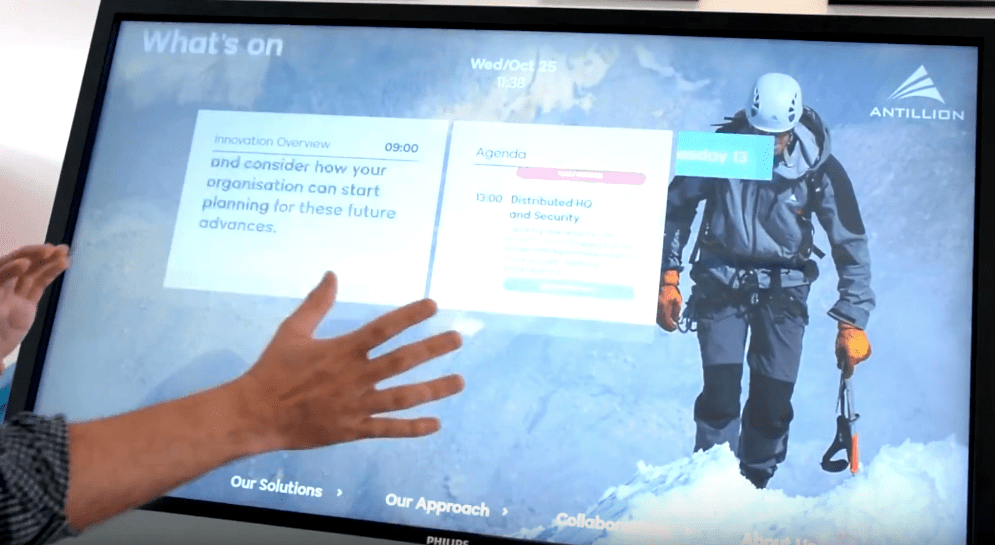 Table' or 'Pedestal' kiosks
These are great to have just inside the entrance of your booth and can be used in all the ways described above.
Having an interactive touch wall is sure to leave a big impression on visitors to your tradeshow booth. You can use either one large screen or combine several smaller screens to create one large display. Visitors can interact directly with these memorable displays.
Again, the options with a touch wall are limited only by your imagination – the same elements can be displayed on a touch wall as a kiosk. The difference between a touch wall and smaller interactive devices is that a touch wall is great for group presentations whereas the smaller units are more for individual experiences. A touch wall is a great way to draw in a crowd with pre-designed presentations.
A Table Top or Endless Aisle is a touchscreen built into a counter which allows you to showcase everything you sell via a browsable digital catalog. It also acts as a reference point for discussions to be held, like gathering around a table at parties.
Both staff and visitors are able to have access which means that it can become very easy to find relevant information even if the discussion changes topic. Not only does this upscale the customer experience but it can increase visitor dwelling time and customer engagement with your brand.
Giving access to information on your exhibition stand is one of the main reasons people come to visit you. This information needs to be readily available at your fingertips to keep guests engaged and interested in your content.
Using hand-held digital devices like iPads are a great tool for your business reps who are on the floor at a tradeshow. Your employees can use these digital devices while they interact with visitors to display your catalog of products or services. Giving booth visitors personalized attention is an important way to help them find what they're looking for. You're sure to impress people by taking them directly to a solution on a digital device by a knowledgeable expert from your business.
A smaller / TV-sized digital screen can be used to reiterate your brand and products. These are often placed behind your 'greeter' / information desk. They aren't necessarily interactive, but interactivity can be used as well if desired. A well-produced video or slideshow loop that features your brand logo and gives an overview of your products and / or services is a highly effective way to further embed your brand into the minds of visitors to your tradeshow booth.
Collect Customer Details and Analytics
Data capture software allows you to utilise your touch screen kiosk to quickly and discretely collect qualified leads which can be followed up later. It also allows customers to give immediate feedback on the products they are interested in.
A good data capture system is vital for the success of any organisation. Whether for marketing purposes, product development or feedback on customer satisfaction levels. This data can then be easily imported into a digital CRM system which then allows you to effectively analyse the information, see what follow up actions need to be taken after the show and also highlight improvements to be made in your process.
Data Capture helps to:
improve the quality of your service and possible retention of clients
refine sales and marketing strategies
enhance product and service development
Increase revenues, profitability and/or efficiency.
Hologic Australia
Elina Vihinen, Marketing & Events Manager
"The touch solution flowed nicely, we were a cut above the others, it gave us an edge and enabled us to look professional."
Viafet Genomic Centre
Mohamed Hallani, Business Manager
"We loved having a touch screen on our stand. It gave visitors something to look at if the team were busy and we found it helpful to go into greater detail on our product."
Capricorn
Jocelyn DaSilva, Group Marketing Manager
"This was a risk for us, it was about taking a step into the future. This was a way we could bring all aspects of our membership to life. This type of interactive solution helped us leverage all the assets we had available."
Let's brainstorm how a custom interactive experience could work for you